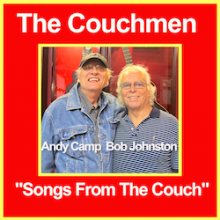 New Music Has Something For Everyone
Ontario, Canada – November 2, 2020 – Canadian country duo The Couchmen are bringing their humor and talent to other parts of the world with their latest release. "Songs From The Couch 2020" combines different styles of music to tell fun and mature stories to their audiences. Instead of performing live on stage, they are making the couch their auditorium.
"Songs From The Couch 2020" is the creation of Andy Camp and Bob Johnston, who have dubbed themselves The Couchmen. Their experience with music production as well as playing is evident in the quality of the album. Each track on the album is a fresh mix of different genres, including progressive, country, blues, folk, rock, orchestral, comedy, singer-songwriter, even goth. Listeners will enjoy what each song has to offer, giving them a different experience each time. "Songs From The Couch 2020" includes the talents of guests artists Frances D'Andrea, Jim Valin, and Terry Rosicki. The combined talent adds to the quirky mix of song and humor on the album. "Songs From The Couch 2020" is ready for listeners to enjoy on streaming platforms worldwide.
The Couchmen was founded by Andy Camp and Bob Johnston. When they are not making songs from the couch, they are active music publishers. The duo help produce and write music for other artists based out of Kirkland Lake Ontario and abroad. The Couchmen not only spread their great music around the globe, but they help other artists accomplish their music dreams and become an inspiration.
Ontario, Canada – September 27, 2021 – The Couchmen are proud to announce the release of their second CD/DVD "The Couchmen" – KL PROUD.  The CD consist of 11 new songs and the DVD consist of 17 videos of the new songs and selected episodes of their show about songwriting,"Songs From The Couch" with special guest: James A. Taylor, Tony Prophet, Donald "Don" Lauzon, Leanne Mayer, Jake Willis, Terry Rosicki, Just For Jesus and The Lakettes.
To listen to more of their music, or for interested parties to reach out to The Couchmen for an interview on their site, podcast, or radio show, you can make contact via the information provided below.
http://www.thecouchmen.com/
Contact:
The Couchmen
Andy Camp and Bob Johnston
couchmen9@gmail.com
Links:
Facebook: https://www.facebook.com/andy.camp.94
YouTube: https://www.youtube.com/playlist?list=PL2dmLa8A_yHQVM9-l854OhvP3a0-U2F_y
Spotify: https://open.spotify.com/artist/1nesX4VkHjw84xUsQ7JrOV